Introducing Monrose Services - UK Based Specialists in Embedded Systems Design
Established in 2000 by David James, formerly Head of Software at Marconi Instruments, Monrose Services provides a software engineering and management consultancy service primarily to manufacturers of embedded systems.
How Can Monrose Services Help Your Organisation?
| | |
| --- | --- |
| Are you in the process of defining a new product? | Monrose Services will work with you to produce a well-written Software Requirements Specification. |
| Are you about to start a challenging new project, or have concerns about one already in progress? Do you have inexperienced software team leaders or project managers? | Let us help you set up your project for success. We can review work in progress and provide friendly one-to-one coaching for your staff. See under Management Services. |
| Perhaps it's your first project as a software team leader? | Individual copies of our Guide to Managing Embedded Software Development (free to clients) are now available to purchase on line from the Management Services page. |
| Do you require a web site or some technical writing? | Although specialising in embedded systems, Monrose will undertake many different kinds of project of which technical writing and web site design are examples. Please visit the Web Design and Other Services pages. |
| Does your organisation need to adapt its existing products without diverting effort from new product developments? | See the Legacy Systems page. |
| Do you use or develop test and measurement products? | We have specialist knowledge of the test and measurement industry and extensive experience in specifying and producing embedded software for microwave signal sources, power meters, scalar and vector network analysers, spectrum analysers, signal generators, signal analysers and mobile radio test sets. If we can't answer your questions directly, it's likely that we'll know someone who can! |
| Are you reluctant to subcontract work to design or management service providers because you believe they will try to commit your organisation to open-ended spending? | Monrose Services offers fixed-price contracts. Clients come back because they have experienced the benefits of the Monrose approach. |

Recent Projects
Monrose undertakes many different types of project from short term investigations to full-scale developments. Here are just a few examples.
---
Controlling Instruments using Ethernet
Monrose recently undertook a major project to introduce Ethernet control into an established test and measurement product. This involved specifying, designing and implementing a solution based on the LXI and VXI-11 standards.
---
Future Proof IO Services
To overcome obsolescence issues and to provide a degree of future proofing to a successful product, Monrose proposed the addition of an off-the-shelf CPU card to provide modern IO services based on Linux. A prototype system developed by Monrose proved to be successful, and the client intends to adopt this technology in the near future.
---
Extending a Product Range
Monrose worked with marketing and engineering staff at the UK headquarters of an international electronics company to specify the software requirements for a new variant of an existing product range, and then went on to design and implement the software.
---
Attractive and Professional Looking Web Sites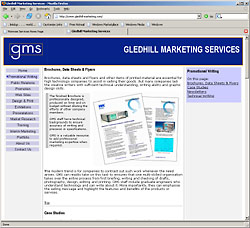 An example of a recent web site design project: GMS are specialists in marketing high technology products and services. Site management facilities use PHP / MySQL technology to allow GMS to keep the site up to date with samples from its expanding portfolio of marketing publications.
More examples on the Web Design Page.
---
Process Improvements
An international telecommunications company invited Monrose to review their proposed new software development procedures and to give a presentation to their software engineering staff based on the Guide to Managing Embedded Software Development by David James.
---
Product Updates
Monrose undertook a project to add new software functionality to a well-established product to take advantage of the adaptive frequency hopping capabilities of the Bluetooth 1.2 standard.